Hello everyone!! Hope you're having a glamorous day<3
Today, I'll be reviewing a book I've read the previous month; I chose it in one of the rolls of Becca's Bookoplathon (you can see my tbr here). Hope you enojy it!
---
The Final Girl Support Group by Grady Hendrix
Genres: horror, thriller
Blurb:
In horror movies, the final girl is the one who's left standing when the credits roll. The one who fought back, defeated the killer, and avenged her friends. The one who emerges bloodied but victorious. But after the sirens fade and the audience moves on, what happens to her?
Lynnette Tarkington is a real-life final girl who survived a massacre twenty-two years ago, and it has defined every day of her life since. And she's not alone. For more than a decade she's been meeting with five other actual final girls and their therapist in a support group for those who survived the unthinkable, putting their lives back together, piece by piece. That is until one of the women misses a meeting and Lynnette's worst fears are realized–someone knows about the group and is determined to take their lives apart again, piece by piece.
But the thing about these final girls is that they have each other now, and no matter how bad the odds, how dark the night, how sharp the knife, they will never, ever give up.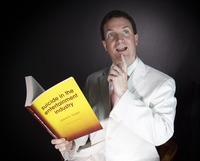 Grady Hendrix is the author of the novels Horrorstör, about a haunted IKEA, and My Best Friend's Exorcism, which is like Beaches meets The Exorcist, only it's set in the Eighties. He's also the author of We Sold Our Souls, The Southern Book Club's Guide to Slaying Vampires, and the upcoming (July 13!) Final Girl Support Group!
He's also the jerk behind the Stoker award-winning Paperbacks from Hell, a history of the 70's and 80's horror paperback boom, which contains more information about Nazi leprechauns, killer babies, and evil cats than you probably need.
And he's the screenwriter behind Mohawk, which is probably the only horror movie about the War of 1812 and Satanic Panic.
You can listen to free, amazing, and did I mention free podcasts of his fiction on Pseudopod. He also does a podcast called Super Scary Haunted Homeschool.
If you're not already sick of him, you can learn all his secrets at his website.
This is the first of Grady's books that I've read so far and I'm very interested to see what else he has up his sleeves. I was quite hesitant to read it at first because it was a horror story BUT I'm really glad I actually did because OMG it was waaay better than I anticipated!!
This follows the story of Lynnette Tarkington, one of six final girls to date. Six women who fought hard to remain alive even though the monsters wanted them dead. You might be wondering what's even a "final girl"?! Well, a final girl is the last girl still alive after everyone gets brutally murdered. It seems that someone is trying to get rid of all final girls one by one, and Lynnette's worst fear is turning out to be a reality.
This is apparently based off the Slasher movies, which I defenitely HAVEN'T watched and DON'T plan to watch and even THINKING about doing such a thing has my heart racing all for the wrong reasons. However, it is indeed quite weird–at least to me–that I actually enjoyed The Final Girl Support Group. Despite having things that I don't really like reading about, it was really terrific!
The major thing I absolutely loved about this book is how it kept me on my toes the whole freaking time. Not only was the mastermind a mystery, I was also questioning whether or not to trust Lynnette. I successfully finished it with bathed breath; I was seriously afraid what the end will be. Highly recommend it!
---
Which Grady Hendrix book is your favorite?!?